A Tiny Ring of Yellow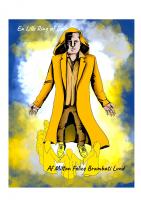 (AKA: En lille ring af gul)
Genre: Efterforskning, Gyser, Komedie
Participants: 1 GM, 5 players
By
Download
Description
Five conspiracy theorists uncover the co(s)mic horrors and secrets behind the danish folk music band "Kandis" success, and the rabid fans. Cosmic comedy with danish folk as the enemy.

Do you also suspect something fishy about the Danish folk band Kandis success? That it quite possibly can't be the music that that kind of cult following? Then you might as well do you own research and be part of uncovering the secrets behind the facade! That is exactly what you will do in a "a tiny ring of yellow." A lovecraftian cosmic comedy where you, together with your other conspiracy theorists, through some light investigation will unveil the terrible cult behind Kandis and their secrets. As players you will uncover the bands past, investigate the local environment in the Danish town of Hurup and how everything seems connected to the band. And figure out what is really going on in thefanclub, while you slowly piece together the truth.

The scenario is a freeform comedy, with some horror and investigation elements. Do expect to become scares, but expect something about a supernatural cult, a shady town, and an eldritch being (apart from lead singer Johnny Hansen). The setting in a quite exaggerated Denmark, where people are even more crazy about Kandis and all other aspects of society is bigger, dumber, and wilder.

Cosmic comedy
Danish folk
Conspiracy

Player types: You are fond of the absurd and the goofy, and love Lovecraft and cosmic horror (not a necessity). You are not anti-vaxxer or flat earther. Knowledge of candy is by no means a requirement, but might make it more fun for you. Maybe watch "Candis for life", it's bizarre, catchy and available for free on dr.dk and the DR app. You get to play one weirdo, no NPC or system knowledge is required.

Gamemaster type: You like humorous scenarios, and absurd stories and help escalate how stupid things get with your players. There is no requirement for knowledge of either Kandis or Lovecraft, but both will make the experience more enjoyable for you. It is a scenario in a fairly classic format, where you are responsible for setting scenes and playing NPCs.
Fem konspirationstosser afdækker de ko(s)miske rædsler og hemmeligheder bag dansktopbandet Kandis' success og deres fanatiske fanskare. Kosmisk Humor med dansktop som fjenden.

Tænker du også, at der må stå noget fordækt bag Kandis success? At det umuligt kan være musikken der giver dem deres kultfølge? I så fald, kan du jo med fordel lave din egen research og være med til at afdække hemmelighederne bag facaden! Det er nemlig hvad du kommer til at gøre i En Lille Ring af Gul. En lovecraftian omgang kosmisk humor hvor du sammen med fire andre konspirationsteoretikere via investigation-lite vil afsløre den uhyrlige kult bag Kandis og dens hemmeligheder. Som spillere kommer i til at grave i bandets fortid, undersøge lokalmiljøet i Hurup og hvordan alt virker forbundet til bandet og dykke ned i hvad fanklubben egentlig laver mens i langsomt stykker sandheden sammen

Scenariet er en systemløs komedie, med enkelte horror og investigation elementer. Regn ikke med at blive skræmt, men regn med at handlingen involverer en overnaturlig kult, en skummel landsby og en eldritch skabning (altså, udover forsanger Johnny Hansen). Settingen er et kraftigt overdrevet Danmark, hvor folk er endnu mere crazy omkring Kandis end normalt og alle andre aspekter af samfundet er større, dummere og vildere.

Kosmisk humor
Dansktop
Konspirationer

Spillertype: Du er glad for det absurde og det gakkede, og elsker Lovecraft og kosmisk horror (ikke en nødvendighed). Du er ikke antivaxxer eller flatearther. Kendskab til kandis er på ingen måde et krav, men kan måske gøre det sjovere for dig. Se evt "Kandis for livet" den er bizar, fængende og gratis tilgængelig på dr.dk og dr appen. Du kommer til at spille én weirdo, ingen bipersonsrollespil eller systemviden påkrævet.

Spilledertype: Du kan lide humorscenarier, absurde fortællinger og er med på sammen med dine spillere at eskalere hvor dumt det bliver. Der er ingen krav til kendskab om hverken Kandis eller Lovecraft, men begge deler vil gøre oplevelsen sjovere for dig. Der er tale om et scenarie i rimelig klassisk format, hvor du står for at sætte scener og spille bi-personer.
Played at
Send corrections for this page