Test Results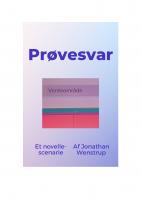 (AKA: Prøvesvar)
Participants: 1 GM, 2 players
By
Download
Description
A scenario about being a patient and next of kin during an examination for an illness, and how you react to the fear, uncertainty and finally the test results.

Presentation

"Test results" i about an extraordinary situation that we all know. The fear of you or one of the people closest to you are seriously ill.

It is about the nervousness of talking about it, that fills in ones thoughts. About how it feels to admit that one is afraid. About talking about it with professionals and with ones loved ones. To wait for an examination and results. To dread the answer on one hand, while wanting it quicker on the other. About how one reacts, when it comes and what happens afterwards.

The scenario is a mixture of characterplay and described play. The players create their characters together, through a workshop, and some short scenes, that will bring the characters to life, before the disease takes its course.

The genre is emotion focussed drama, where you will play out what the situation does to the character, more than the disease itself.

Disease
Character play
Social realism

Player types: You like emotionally hard experiences, and to explore you reaction when the scenario comes under your skin. You feel like playing a realistic scenario, that has illness in the close relation at its centre. The players themselves decide which kind of symptoms it will be about, from a list.

Gamemaster type: You are a facilitator, set scenes, and cuts. You also play the doctor, that will question, describe and handle the players reactions. You like playing along, and having a role, while driving the scenario forward.

Players: 2

Gamemasters: 1 partly participating

Total runtime: 2 hours

Language: Danish and English, gamemaster text only in Danish

Age limit: 15+

Material to be read: 1 page
Et scenarie om at være patient og pårørende i et sygdomsforløb, og om hvordan man reagerer på frygten, usikkerheden og endeligt svarene på undersøgelserne.

Foromtale

Prøvesvar handler om en ekstraordinær situation, som alle kender. At være bange for selv at være syg, eller at ens nærmeste er det.

Det handler om nervøsiteten for at tale om dét, der fylder i ens tanker. Om hvordan det føles at indrømme, at man er bange. Om at tale om det med professionelle og med ens elskede. At vente på undersøgelse og svar. At frygte svaret og samtidig ikke kunne få det hurtigt nok. Om hvordan man reagerer, når det kommer, og om hvad der sker bagefter.

Scenariet er en blanding af karakterrollespil og fortællescenarie. Spillerne laver deres karakterer i fællesskab, gennem en workshop, og nogle korte scener, der hjælper med at bringe karaktererne til live, før sygdomsforløbet starter.

Genren er følelsesfokuseret drama. Der skal spilles på det situationen gør ved karaktererne mere end de konkrete detaljer om sygdomsforløbet.

Sygdom
Karakterrollespil
Socialrealisme

Spillertype: Du holder af følelsesmæssigt hårde oplevelser, og af at udforske reaktioner når scenariet kommer ind under huden. Du har lyst til at spille et realistisk scenarie, der har sygdom i den nære relation som omdrejningspunkt. Spillerne vælger selv hvilke symptomer der er tale om, ud fra en liste der udleveres.

Spilledertype: Spilleders rolle er dels som facilitator, scenesætter og klipper, og dels som lægen, der skal udspørge, forklare og rumme spillernes reaktioner. Du kan lide at spille med, og leve dig ind i rollen, mens du bringer scenariet naturligt videre.

Spillere: 2

Spilledere: 1 delvist medspillende

Samlet tidsforbrug: 2 timer

Sprog: Dansk og Engelsk. Spilleder-tekst kun på dansk

Aldersgrænse: 15+

Læsemængde: 1 side
Played at
Awards
Nominated, Bedste Formidling

Spillederen får ikke bare en kittel, men bliver også sprogligt klædt på til at påtage sig lægerollen. Den dybt sympatiske fortællestemme guider gennem symptomer og undersøgelser og sikrer, at man aldrig er ude på dybt vand.

Not only is the gamemaster given a scrub to dress for the part, the scenario also equips them with the language needed to play the role as a doctor. The friendly voice of the narrator guides the reader through symptoms and tests, and ensures that the gamemaster is never out of their depth.
Nominated, Bedste Scenarie

Prøvesvar sætter barren højt, når patienten og den pårørende tvinges til at vente på det afgørende og frygtede testresultat. Det er kort, men ventetiden kan føles uendeligt lang, og det giver en stærk og potentielt meget rørende oplevelse for såvel spiller som spilleder.

Test Result sets a high bar when the patient and the next of kin are forced to wait for the dreaded test results. The scenario is short but the wait feels unfathomably long and creates a powerful and potentially very touching experience for both player and game master.
Send corrections for this page