GothCon VI (1982)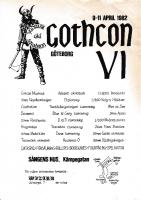 Location: Sångens Hus, Göteborg, Sweden 🗺️
Date: 9. - 11. April 1982
About the convention:
Arrangörer var Ygdrasil, GKF och Sqvadron
Download
Organizers
Referenced in the following articles
Trivia
120 deltagare
En föregångare till lajv under namnet KILLER spelades men på grund av att inte bara vattenpistoler utan även en brandslang kom till användning förbjöds KILLER omgående för all framtid.
Gunnar Brolin och Anders Blixt fick i uppdrag att skriva ett förslag hur en specifik GothCon-förening med ansvar för arrangemanget i framtiden skulle se ut.
På grund av oenighet bland tidigare års arrangörer planerades 2 konvent; ett på kåren under påskhelgen och ett på Sångens hus under pingst. Efter diverse intriger och heta debatter vann förnuftet och konventet hölls på Sångens Hus under påskhelgen.
Send corrections for this page