DalCon - MCMXCV - A midsummernight´s dream (1995)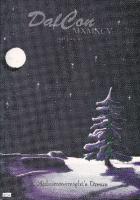 Location: Forssaklackskolan, Borlänge
Date: 6. - 8. January 1995
Download
We haven't had access to a program for this convention. The list is simply based on external references, memory, rumors and so on and the list might not be completed.
If you have a correction or are in access of a program then please send us an update.
Trivia
Pengar i form av 20 kronor betalades ut till de som visade upp sig i receptionen i sin egendesignade fantasydräkt.
Konventet sponsrades av Västerås stift.
Send corrections for this page