Kattcon (2009)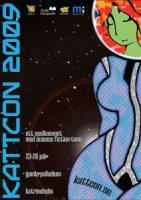 Location: Tallåskolan, Katrineholm, Sweden
Date: 23. - 26. July 2009
We haven't had access to a program for this convention. The list is simply based on external references, memory, rumours and so on and the list might not be completed.
If you have a correction or are in access of a program then please send us an update.
Trivia
Enligt Patrik Ljungberg rasade innertaket på lokalen i Gamla Palladium tre dagar innan konventet vilket gjorde att konventet flyttades till Tallåskolan.
Send corrections for this page