Wettcon Vinter 2024 (2024)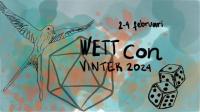 Location: Kulturhuset, Jönköping, Sweden 🗺️
Date: 2. - 4. February 2024
About the convention:
*tut tut* lägg in i din kalender!
Wettcon Vinter 2024 sker igen mellan 2-4 februari 2024.
Ni vet - det fetaste spelkonventet i Jönköping som funnits i vadå… 30 år typ!?
Vi snackar brädspel, figurspel, rollspel och samlarkortspel på en och samma plats.
Arrat av de gamla godingarna G&B-syd!
MER INFO KOMMER , visa ert intresse på evenemanget så får ni uppdateringar!
We haven't had access to a program for this convention. The list is simply based on external references, memory, rumours and so on and the list might not be completed.
If you have a correction or are in access of a program then please send us an update.
Organizers
Links
Send corrections for this page