MidgardCon 2024 (2024)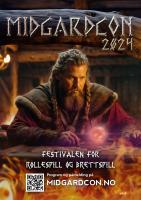 Location: Midgard vikingsenter, Horten, Norway
Date: 30. August - 1. September 2024
About the convention:
Liker du brettspill eller rollespill? Delta på MidgardCon og spill favorittspillet ditt i historiske omgivelser!
Velkommen til et spillcon utenom det vanlige! Drager, magi, alver, trollmenn - og ikke minst vikinger - venter på deg når MidgardCon går av stabelen i Gildehallen!
Bli med på en opplevelseshelg som gjennomføres i autentiske vikingomgivelser med levende ild og matserving.
Ta med egne brettspill og møt andre spillentusiaster. Vi oppfordrer alle til å slå seg ned ved bordene og spille sammen på en formiddabel spillhelg i Gildehallen!
MidgardCon er et samarbeid mellom Midgard vikingsenter og Horten Spillkveld:)

We haven't had access to a program for this convention. The list is simply based on external references, memory, rumours and so on and the list might not be completed.
If you have a correction or are in access of a program then please send us an update.
Organizers
Links
Send corrections for this page