Create Jam 2023 - Wild West Fall Edition (2023)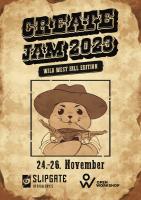 Location: CREATE Aalborg University, Denmark 🗺️
Date: 24. - 26. November 2023
About the convention:
"Howdy there, stranger! 🤠Welcome to this here saloon. Who, me? Well, I'm just your ordinary ol' cowboy. Sheriff Seal's the name. And let me tell ya, it gets rough out here in the West. 🔫 Whether it's a 3-hour journey on horseback just to get to the apothecary in the town over, a sudden duel catching the attention of everyone within earshot, or tracking down the ever-growing list of wanted criminals, let me tell ya... It's not such an easy life out here. 🌵Think you got what it takes, partner?" ☀️

That's right, put on your fanciest cowboy hat, chaps and vest, because Create Jam Fall 2023 is heading off to...

🤠 The Wild West! 🤠

We're just about darn tootin' to kick off the jam on Friday, November 24th to Sunday, November 26th!!🌵🔫☀️

The event page will be up soon, keep your eyes peeled! Yeehaw!🏇
We haven't had access to a program for this convention. The list is simply based on external references, memory, rumours and so on and the list might not be completed.
If you have a correction or are in access of a program then please send us an update.
Awards
Organizers
| | | |
| --- | --- | --- |
| Board Game Judge | Jan Jensen | |
| Budget, Medialogy | Kit Valentin | |
| Budget, Medialogy | Pelle Bloch Atkinson | |
| Budget, Medialogy | Stefan Nordborg Eriksen | |
| Digital Artist, Computer Science | Maria | |
| General Management, Interactive Digital Media | Frederik Johan Dennig Becker | |
| Keynote Speaker | Hans Haave | |
| Marketing, Experience Design | Una Súsanna Skaalum | |
| Marketing, Interactive Digital Media | Gustav | |
| Marketing, Medialogy | Tobias Krogh Risom | |
| Speaker: Introduction to audio design | Camilla Angelbo Hansen | |
| Speaker: Introduction to Game Audio | Mads Martinussen | |
| Streaming and Discord, Medialogy | Martin Dahl Sørensen | |
| Streaming and Website, Medialogy | Marcus Otterstrøm Hyttel | |
| Video Game Judge | Gustav Schroder | |
| Video Game Judge | Hans Haave | |
| Website, Medialogy | Frederik Møller | |
Links
Send corrections for this page