Nitricon 2024 (2024)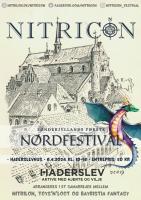 Location: HaderslevHus, Haderslev, Denmark 🗺️
Date: April 6, 2024
About the convention:
‼️ NITRICON 2024 ‼️
‼️ 6. april 2024 ‼️
På HaderslevHus
Vi er klar igen!! 🤘
Er i klar igen?? 🫵
NitriCon arrangeres i et samarbejde mellem:
Rollespilsforeningen Nitrilon
Bayristia v/forfatter Jannick Bay Christensen
Toys'N'Loot
We haven't had access to a program for this convention. The list is simply based on external references, memory, rumours and so on and the list might not be completed.
If you have a correction or are in access of a program then please send us an update.
Organizers
Send corrections for this page