NitriCon (2023)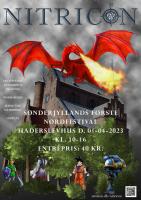 Location: HaderslevHus, Haderslev, Denmark
Date: April 1, 2023
About the convention:
Nitrilon glæder sig til at byde velkommen til den første NitriCon – Sønderjyllands første nørdfestival.

NitriCon er for rollespillere, figurspillere, TCG-spillere, cosplayere, fantasynørder, gamere, LARP'ere og alle andre, som har nørdede interesser.

Følg med her på siden eller på foreningens Facebook-side, hvor der løbende vil komme opdateringer om aktiviteter på con'et og standholdere.

Hvis du har spørgsmål, forslag eller ønsker at have en stand, kan du kontakte styregruppen
We haven't had access to a program for this convention. The list is simply based on external references, memory, rumours and so on and the list might not be completed.
If you have a correction or are in access of a program then please send us an update.
Organizers
Links
Send corrections for this page