PoRtaL 1: Zagreb (2013)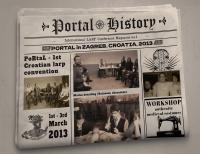 Location: Zagreb, Croatia
Date: 1. - 3. March 2013
About the convention:
⚔️ Ivo Turk held a presentation about Amtgard in Croatia.
🤹 There was a discussion about NPCs.
🕵🏾‍♂️ Aleksandar Gavrilović ran Horror Murder Mystery larp.
🎛 The Mixing Desk of Larp was discussed.
👐🏽 Ivan Žalac ran an Ars Amandi workshop.
🏔 Participants played Koliba larp (The Cabin).
🍻 Ivan Žalac ran A Party Full of Secrets larp.
👗 There was a workshop on how to make authentic medieval costumes.
💙 Participants had a chance to play Love is Blue larp.
👨‍👩‍👧‍👦 (Re)union larp was designed during "working lunches" and then played during the last day.
We haven't had access to a program for this convention. The list is simply based on external references, memory, rumours and so on and the list might not be completed.
If you have a correction or are in access of a program then please send us an update.
Organizers
Send corrections for this page