Water Con 97 (1997)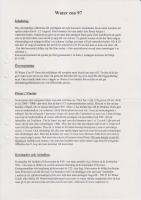 Location: Åsö gymnasium, Stockholm, Sweden
Date: 8. - 12. August 1997
This convention has been cancelled.
About the convention:
Legendariskt konvent eftersom hela konventet var en bluff. Arrangören hade aldrig bokat lokalerna och stack med pengarna.
Download
We haven't had access to a program for this convention. The list is simply based on external references, memory, rumours and so on and the list might not be completed.
If you have a correction or are in access of a program then please send us an update.
Send corrections for this page