Hvor sporet ender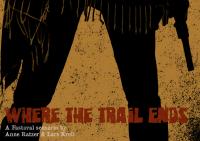 (aka: Where the Trail Ends)
Deltagare: 1 SL, 4 spelare
Av
Ladda ned
Beskrivning
Fire revolvermænd konfronterer hinanden på en støvet hovedgade under den hede middagssol. De har været på vej hertil det meste af deres liv. Cikadernes sang forstummer, da skuddene falder, og fire skæbner afgøres. Nogle vil dø, og nogle vil endelig få den hævn, de så længe har søgt.

Hvor Sporet Ender fortæller historien om 4 revolvermænd og deres vej mod det endelige opgør. De mødes på kryds og tværs over mange år, hvor had og nag ophobes mellem dem, indtil den dag, hvor regnskabet skal gøres op.

Scenariets slutning er uundgåelig: Nogen skal dø, andre skal dræbe. Men hvem og hvordan afgøres af spillerne, og af de valg, de træffer undervejs.

Scenariet er en hyldest til spaghettiwesterns: Lange, sigende pauser, undertrykte følelser, panoreringer henover øde prærier, hektiske skuddueller, lugten af støv og krudt i den varme sol. Man behøver IKKE være ekspert i spaghettiwesterns, bare man kan lide at fordybe sig i stemningen og bringe indre billeder til live. Stemning og genre understøttes gennem simple spilmekanikker.

Vejen til opgøret oprulles gennem flashbacks, i en kombination af rollespilsscener og fortællescener, hvis udfald delvist afgøres af spillerne. Hemmeligheder og forræderi foregår kun mellem hovedpersonerne – spillerne samarbejder om at skabe historien.


Four gunslingers face off in the scorching midday heat somewhere in the west. They have always known it would end this way. Silence falls, the guns speak, and four fates are sealed. Some will die, and some will finally get the revenge they have sought for so long.

Where the Trail Ends tells the story of 4 gunslingers and their path to the ultimate showdown. Over the course of many years they meet again and again, building up hatred and grudge until the day the score is settled.

The end is unavoidable: Some will die, others will kill. But who and how is decided by the players and the choices they make.

The scenario is a tribute to spaghetti-westerns, with long, meaningful silences, barren prairie landscapes, bottled-up feelings, intense shoot-outs, and the smell of dust and gunpowder under the hot sun.

You do NOT need to be an expert in spaghetti-westerns, as long as you enjoy immersing yourself in the atmosphere and bringing your inner images to life. Genre and mood are supported by simple game mechanics.

The road to the showdown is told through flashbacks, in a combination of roleplaying scenes and storytelling. Secrets and betrayal take place between the characters only – the players work together to create the story.
Spelat på
Skicka in rättelser om den här sidan