Skumringstimen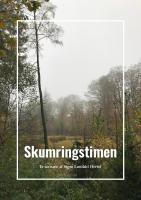 (aka: Eventide)
Genre: Drama
Deltagare: 1 SL, 4 spelare
Av
Ladda ned
Beskrivning
'Skumringstimen' er en coming-of-age fortælling om fire 13-årige veninder, der kæmper med at blive voksne og passe ind. Deres fælles interesse for det okkulte fører dem ind i en anden verden, hvor magiske væsner og overnaturlige prøver tilbyder en flugt fra deres dilemmaer i den virkelige verden. Men risikerer de at miste sig selv og deres venskab i Landet i Skumringen?

'Skumringstimen' er et freeform scenarie med fokus på rolleudvikling og stemningsfuld fortælling. Spillerne udvikler deres roller og rollernes relationer gennem scenerne. De er også med til at skabe og farve den magiske verden gennem beskrivelser. Spilleder hjælper spillerne med at beskrive verdenen omkring dem og sætter og klipper scener. Spilleder spiller også de biroller, rollerne møder i fortællingen.

'Eventide' is a coming-of-age story about four 13-year-old girls struggling with growing up and fitting in. Their common interest in the occult leads them to another world, where magical creatures and supernatural trials offer them an escape from their real world dilemmas. But will they risk losing themselves and their friendship in the Land of the Gloaming?

'Eventide' is a freeform scenario with focus on character development and storytelling. The players will develop their character and the character relations through the scenes. They will also take part in creating and colouring the magical world through descriptions. The game master will help the players describe the world around them alongside setting and cutting scenes. The game master will also play the supporting characters in the story.

Spelat på
Skicka in rättelser om den här sidan