Byen og bæstet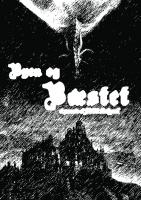 (aka: The City and the Beast)
System: Systemløst
Genre: Drama, Fantasy
Deltagare: 1 GM, 4 players
Av
Ladda ned
Beskrivning
En by i bæstets vold. Hensunket i angst, armod og nostalgiske minder om det, der var engang. Minder om rigdom, kobberminer og funklende tage. En hverdag holdt sammen af fyrstens stålsatte vilje om at beskytte alle mod uhyrets flammer. En vilje, der koster tårer, skrig og råb om uretfærdighed. En vilje, der må se ud over den enkeltes sorg. En fyrste, der må gøre det nødvendige, selvom det gør ondt.

Byen og Bæstet er et komplekst scenarie om byen Mêsti Mêdena på kanten af bjergene. En by, der engang var rig på kobber og fuld af liv, men er sat i stå af frygten for det ildsprudende bæst Šchlubemeer, der bor i de nu afsvedne bjerge.

Gennem både fastlagte kapitler og frie fortællinger dykker scenariet ned i frygtens verden. Spillerne spiller en række forskellige roller fra byen – før, under og efter en flok rædselsslagne borgere inspireret af selvbestaltet helt drager ud for at befri byen for bæstets skygge. For hvad sker der med frygten, når bæstet er væk? Forsvinder den som morgendug efter solopgang, eller bliver den hængende som en kvælende tåge til mørket atter falder på?

Forvent en intens og brutal oplevelse, der handler om mere og andet end et bæst i et bjerg. Forvent gråtoner, tragedie og måske en anelse håb for forårets komme. Forvent hverken helte eller skurke.
This is a complex scenario about a city seized by a furious beast. A city once rich but now stalled by fear of the fire breathing beast living somewhere out in the scorched mountains nearby.

For ten years the city of Mêsti Mêdena has been threatened by Šchlubemeer the beast. Fear and poverty is all that's left after years of siege. Memories of wealth, rich cupper mines and beautiful cupper roofs haunts the citizens. And now – after ten years of isolation – the city is only held together by the steely determination of the city's leading prince to protect the city from the flames of the beast. A determination which leads to tears, screams and cries for justice when the he has to do what's necessary to calm down the beast.

The City and the Beast investigates the world of fear in both well established scenes and free improvisations. The players act out different characters from the city in the time before, during and after a group of horrified citizens goes out into the mountains to free the city from it's opressor. But what happens when the beast is gone? Does fear disappear as morning dew in the setting sun? Or does it stick to the city as a suffocating fog until another night falls?

As a player you can look forward to an intense and brutal experiences which is about more than just a beast in a mountain. You can expect shades of grey, tragedy and maybe even a slightly hope for spring. Expect neither heroes nor bad guys.
Spelat på
Priser
Nominated, Bedste Fortælling
[+]
Trivia
Otto-nominering: Bedste Fortælling
Skicka in rättelser om den här sidan