Just a Little Lovin'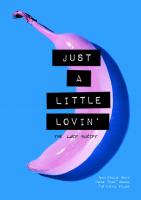 (aka: JaLL)
System: LARP
Deltagare: 55-65 spelare
Av
2013, Arresøcentret, Frederiksværk, Danmark
2015, Lejrcenter Birkedal, Tølløse, Danmark
2016, Frankrike
2017, Minnesota, USA
2018, Finland
| | |
| --- | --- |
| ✏️ | Anna Emilie Groth (Additional organizer characters) |
| | Tonja Goldblatt |
| | Joonas Iivonen |
| | Suvi Korhonen |
| | Essi Kuukka |
| | Jamie MacDonald |
| | Pauliina Männistö |
| | Essi Santala |
| | Tor Kjetil Edland (Co-organizer and workshop facilitator) |
| | Anna Emilie Groth (Co-organizer and workshop facilitator) |
| | Petter Karlsson (Co-organizer and workshop facilitator) |
| | Helene Willer Piironen (Co-organizer and workshop facilitator) |
2019, Ingestre Hall, Staffordshire, Storbritannien
Ladda ned
Beskrivning
A larp about friendship, desire and the fear of death

Two group of friends from New York City celebrate the 4th of July in upstate New York. The 1970s have been a decade of women's liberation, youth rebellion, anti-war protests and sexual promiscuity. This changed America forever, but the early 1980s is also a time of a resurging conservative movement which President Ronald Reagan is the sunny face of. Gay men are migrating to New York to become part of the vibrant and hedonistic scene in Greenwitch Village. Unbeknownst to everyone however the HIV virus has started spreading in the city. An article in the New York Times last summer described a mysterious "gay cancer", but it's cause remains still unknown.

During the larp we play three 4th of July partys of 1982, 1983 and 1984. Every morning after breakfast there is an act break where we find out what has happened with the characters and their relationships the following year before the next act starts one year later. When the game starts neither the players nor the characters know who will become infected by the virus, but the lives of all the characters will be deeply effected by the epidemic. Our goal for the game is that all the characters will have friendships that are important to them, experience a little bit of lovin' at the summer parties and feel the fear of death as people around them start to become infected.
Speltillfällen 🗺️
| | | |
| --- | --- | --- |
| 10. - 13. juli 2011 | | Oslo, Norge |
| 2012 | | Sverige |
| 5. - 10. augusti 2013 | | Arresøcentret, Frederiksværk, Danmark |
| 21. - 26. juni 2015 | 🗺️ | Lejrcenter Birkedal, Tølløse, Danmark |
| 2016 | | Frankrike |
| 2017 | | Minnesota, USA |
| 2018 | | Finland |
| 30. juli - 8. april 2019 | 🗺️ | Ingestre Hall, Staffordshire, Storbritannien |
Nämns i följande artiklar
Länkar
Skicka in rättelser om den här sidan