When the Man Comes Around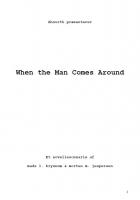 Genre: Novellescenarie
Deltagare: 1 SL, 4 spelare
Av
Ladda ned
Beskrivning
And I heard as it were, the noise of thunder
One of the four beasts saying: come and see – and I saw
And behold, a white horse

And I heard a voice in the midst of the four beasts
And I looked and behold, a pale horse
And it's name it said on him was Death
And Hell followed with him

J. Cash 1931 - 2003

When the Man Comes Around er et scenarie om at savne og længes, om at elske og miste. Men frem for alt er det et scenarie om at dø.
Spelat på
Länkar
Skicka in rättelser om den här sidan