The Realms of Roleplay (1990)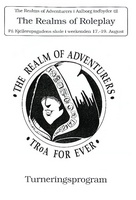 (aka: TRoR)
Plats: Kjellerupsgade Skole, Aalborg
Datum: 17. - 19. augusti 1990
Om konventet:
Gratis adgang for TRoA-medlemmer.
Andre skulle betale 30 kr. + 5 kr. pr. aktivitet

Ladda ned
The program is available for download but we haven't typed in all of the presentations of the games yet. We could use your help - if you want to help us by transcribing presentations from the program into the database please contact us.
Skicka in rättelser om den här sidan