Call of Tequila/Great Old El Paso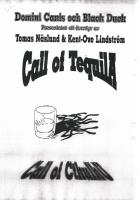 System: Call of Cthulhu

Arrangert av
Black Duck
Av
Last ned
Beskrivelse
"I wake up in the morning
And I raise my weary head.
I got an old coat for a pillow
And the earth was last night´s bed.
I don´t know where I´m going
And only God knows where I´ve been
I´m a devil on the run, a six-gun lover,
A candle in the wind."

- Jon Bon Jovi

Fem hårdhudade prisjägare upptäcker att prärien innehåller annat än bara kaktusar och coyotes.
Spilt på
Send inn rettelser om denne siden