Dark Streets & Dark Deeds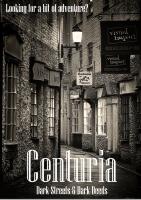 System: Centuria
Deltakere: 2 GMs, 6 players
Av
Last ned
Beskrivelse
The streets of Duridal, capital of the Commonwealth, are slowing down as night descends. Those that remain outside are in stark contrast: some moving with determination towards a goal important enough not to wait until morning while others have the slow, aimless walk of the drunk or destitute. The constant hammering of the industrial factories in the distance are not quite enough to quench the sound of a gunshot. A murder is a serious crime but in this case it pales in comparison to what it tries to conceal. But what is most dangerous: the lie or the truth?

Centuria will be back on LinCon in 2016 but with a slightly different setup from previous years. It will be a cooperative project with Niclas Ohlsson and Björn Persson and we will run a single adventure for a 6 player group. The adventure will have mature content so we kindly ask that all participants are 18+.
Spilt på
Trivia
Äventyr med två parallella grupper som kräver två spelledare.
Författaren blev intervjuad av radio.
Send inn rettelser om denne siden