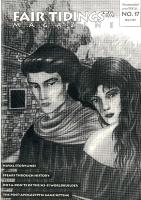 17 - May 1996
Colophon
Content
Page 1
Front page
Front page
Birgitte Vince Heuschkel
Illustrator
Page 3
Editorial
Whoopie! We're getting on the 'net at last!
Birgitte Vince Heuschkel
Editor
Page 4
Ship of fools


Naval storylines offer a wide range of possibilities, and characters have to cross at least a small fjord sometimes, don't they?

Page 8
From the flint spear to the glaive


An attempt to summarize the evolution of European shafted weapons

Page 11
Do's and don'ts of the sci-fi worldbuilder


Easy-to-swallow basics for creating a science fiction campaign world

Page 17
DELPHI downtown
Page 18
After the apocalypse


They said it could not happen here!
Send corrections for this page