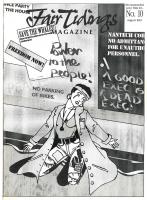 10 - August 1994
Colophon
Content
Page 1
Front page
Front page


"Well - it's a big, dirty city and a big, dirty world, anyway."

Birgitte Vince Heuschkel
Illustrator
Page 3
Editorial
Aa criticism comes...
Birgitte Vince Heuschkel
Editor
Page 5
Acting out omnipotence


Delving further into the workings of the omnipotent mind — and that of the NPC it tries to portray.

Page 12
Littera Scripta Manet


Published first in 1953, and translated into 25 languages, Frederick Pohl and C.M. Kornbluth's science fiction novel is still relevant.

Page 14
DELPHI downtown
Page 16
Keyword to a character


Quick generation of character backgrounds that aren't like everybody else's.

Page 23
Now you see — now you don't


Regarding reality — anyone's reality and perception — anyone's perception.
Send corrections for this page