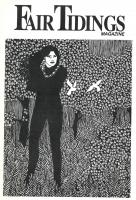 6
Colophon
Content
Page 3
Editorial
Time is a profundly confusing concept!


A bright day in February; I begin to ponder briefly upon what to write in that scenario I just promised to deliver - then I forget about it for a while. Suddenly it's June 15th and deadline is in two weeks...

Page 4
But it was never meant to happen...


An introduction to the devastating effects of nuclear war, taking into consideration also other catastrophes which in roleplaying games might bring about the same results.

Page 9
The Hunting Lodge of the Spotted Horse


In historic times small nomadic tribes wandered the plainsland, dependent upon nature and a steady flow of game...

Page 18
Additional skills for Warhammer Fantasy


A collection of new skills for Games Workshop's Warhammer Fantasy game!



Send corrections for this page