A Serpent of Ash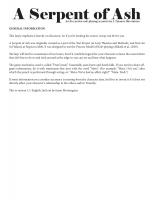 RPG system: LARP
Participants: 12 players
By
Download
Description
A two hour nordic mini-larp for 12 Players,focusing on discourse and exploring themes of faith and happiness.
The Larp was originally created as a part of the Test Project on Iarp Theories and Methods, and has been run in Finland at Ropecon 2006 and in Denmark at Knudepunkt 2007. The language of the game will be English.

Setting:
All of you here today were once members of a religious sect called "The Liberated" led by a man called Timothy Barke. The Lord Christ spoke directly to him, and he in turn passed the message forward to those who deserved it, the only ones who would be saved. You. The movement died five years ago when Timothy suddenly died. No one from his inner circle was able to take control of the sect, and all members eventually went their own way.
Now, five years later in the modern day you have all been summoned together again, to talk about what actually happened. About what made you stay in the sect in the first place, and about what Timothy really may have wanted out of all of you.
"...the sign of Christ has been branded into each and every one of those hearts that REALLY accept him. When you personally take Jesus into your life — just like you, Jacob, have already done! — you can see how the light of the Lord can start to shine even in the darkness of perdition. And I don't want to see any of you — any human being! — being forced to face that darkness without a chance to receive that light! That's why I hope — I know! — that each and every one of you will bring at least one new, interested person to our morning meeting next Saturday. Right? Christ died for YOUR REDEMPTION. so the least you can do is use at least a SMALL BIT of your time to bring that salvation to other people as well. Isn't it? After all, it is a tiny thing compared to what CHRIST HIMSELF DID . . . "
Modern day dress is entirely appropriate. This larp Will be followed by a short debrief session.
A larp about the dark side of religion: What happens when former cult members meet again? What has been left unsaid? A discourse-oriented game for 6-12 players that has been run at major conventions in Finland, Denmark, Sweden, Italy and the United Kingdom.
Played at
Send corrections for this page