End of the tour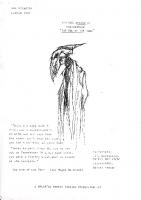 RPG system: Kult
Participants: 1 GM, 4 players
Organized by
Pekings Apjävlar
By
Download
Description
Gudars djävlar, vad tiden går sakta när man är ensam, tänkte mannen när han klev av den metallic-blå Chrystlern som han nyss hade parkerat på den skitiga uppfarten. Helt ensam var han dock inte, i bagaget låg Henrietta, 18 inch lång, med en vacker kolv i mörkbrun japansk rödek. Hon var havande i 9:de månaden och bar på 7x12 5,9 grams blyhagel som ivrigt väntade på att se dagens ljus. Hon hade tjänat honom väl i flera av de "jobb" han hade utfört åt Nice guy Eddie.

Knappt hade han tänkt tanken förrän han fick en oväntad på hälsning från en gammal och kär vän. Det var inget schyst slut på en dålig dag, men det var en bra start på ett nytt liv. Resan hade bara börjat.

Citat: "There´s a girl with a crown and, a scepter, who's on WLSD, and she says that the scene isn´t that its been, and she´s thinking of going home"
"Never to part since the day we met out on Interstate 91. I was bent metal, you were a flaming wrecj, when we kissed at the overpass."

The End of the Tour - They Might Be Giants.
Played at
Trivia
Huvudturnering på LinCon 1995
Send corrections for this page