SINS: Rise Of Wrath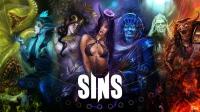 By
Description
A grotesque deck-builder, where you choose your own path. A small action-packed game for all sinners.

SINS is a fantasy deck-builder with a quick setup and gameplay, filled with actions, events and tough choices in a small package.

In SINS, you are competing for power, to overcome weaknesses and give despair to your opponents.

To win, have the least weaknesses at game end.
Played at
Trivia
Forventes udgivet i 2020
Funded på Kickstarter 31. december 2019
Links
Send corrections for this page