Driftin' too far from shore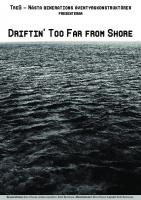 RPG system: G20 - Political World (Egenkonstruerat)
Participants: 1 GM, 5 players
By
Download
Description
Herr Vice-President
Vid 0800 h rekvirerade General Thomas White med våld den experimentella ubåten G8-C376 "Nixon" ur dess hangar i utanför Boston.

Vid 0814 h lämnade Nixon hangaren och begav sig ut motöppet vatten. Två kryssare och ett hangarfartyg som befann sig i närheten tog genast upp jakten och beordrades att skära av ubåtens flyktväg.

Vid 0846 h verifierade den ena kryssaren med sonar att Nixon lyckats smita förbi blockaden och nu var på väg rakt ut i Atlanten i riktning mot Europa. Detta var den sista kända kontakt med ubåten.

Vid 0950 avbröts förföljandet. Flottan i Medelhavet sattes
samtidigt i högsta beredskap.

G8-C376 "Nixon" är en ny sofistikerad stealth-ubåt bestyckad med flertalet strategiska kärnvapenspetsar av en nyutvecklad typ.
General White var vid tillfället för rekvirerandet befriad från tjänst under det att hans förehavande i Mellanöstern ifrågasatts ifrån Vita Huset.

- General Douglas Fields

Den fristående uppföljaren till "A Hard Rain´s A'gonna Fall" och"Stuck Inside of Mobile With the Memphis Blues Again" presenteras här på GothCon. Ett actionfyllt samtidsdrama som sträcker sig från maktens korridorer i Washington ända ner till havets botten.
Played at
Send corrections for this page