Losing Your Marbles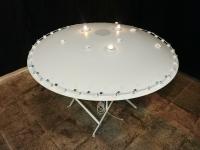 Participants: 2-36 players
By
Description
A social 'campfire' game for up to 36 players!

A social 'campfire' game, where you can sit with a group of people and have some simple fun shooting some marbles. If you get a marble in a goal, you make a rule! Or do a dance! Or tell an embarrassing story! YOU decide how to play!

The board is entirely customizable, so you never play the same game twice (unless of course you want to!).
Played at
Links
Send corrections for this page