Stærkodder og Vikingerne i Øster Salt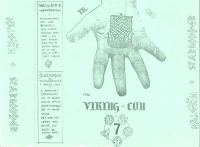 (AKA: Stærkodder i Øster Salt)
Genre: Fantasy
Participants: 2 players
By
Download
Description
2 personers strategispil om et blodigt søslag mellem besætningerne på to vikingeskibe.

Det ene helt lastet med bytte, det andet er endnu tomt

Strategispil for 2 deltagere, designet specielt til VIKING-CON af Erik Wittchen.
Played at
Trivia
Ved ankomsten til Viking-Con 7 fik alle deltagere udleveret en æske indeholdende to spil: Halgrim & Labyrintskatten, samt Stærkodder og Vikingerne i Øster Salt.
Send corrections for this page