De Dansende Mænd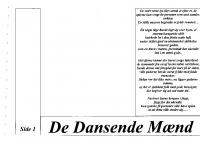 RPG system: Systemløst
Genre: Efterforskning, Fantasy
Participants: 1 GM, 6 players
By
Download
Description
De store sorte lys blev tændt et efter et. De oplyste kun svagt de personer som stod samlet i cirklen. En stille messen fyldte rummet ...

En sagte tåge havde lagt sig over byen, et ensomt hængende skilt knirkede let i den friske natteluft, underskiltet gled en ubemærket skikkelse henover gaden, som en Ravn i natten, forsvandt den ukendte ind i en mørk gyde ...

I det fjerne kunne der høres svage latterbrøl, de stammede fra en af byens sidste værtshuse, havde denne nat foregået for bare få år siden, ville gaderne have været fyldte med fulde mennesker.

Sådan var det ikke mere, nu ligger gaderne tomme, og det er sjældent folk med gode hensigter, der bevæger sig ud ved nattetid ...

Nu lever byens borgere i frygt, frygt for det ukendte. Kun ganske få personer ville have spået, at alt dette ville ændre sig ...
Played at
Send corrections for this page