JBA2: Sur sur sur lille bi omkring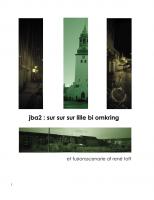 RPG system: Fusion
Genre: Action, Thriller
Participants: 1 GM, 5 players
By
Download
Description
Hvad vil du gøre, hvis dine kære bliver taget fra dig?
Hvis de bliver dræbt?
Oven i købet af folk som ikke angrer det?
Vil du hævne det?
Hvad nu hvis du er en af de folk?
Hvad nu hvis det er en af dine gerninger, der skal hævnes?
Vil der være nogen til at hævne dig?

Jyllands Befrielses Armé (JBA) vil have hævn over detektiverne.
Detektiverne kommer til at ville have hævn over JBA.
Vold avler vold i dette aalborgensiske mareridt.
Played at
Send corrections for this page