Gangs of Umbar 2 - Wraiths & Black Sails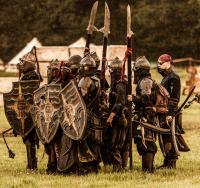 RPG system: LARP

By
Description
The great port city of Umbar has for long been trying to expand its reign and territory. This has made the Sealord, ruler of umbar, put one of his high captains on the job of colonizing the ruin of a once great city, called Tharbad.

The city stands empty and old but soon it will be a hub of trading and dark schemes! All allies of sauron and umbar are welcome in the colonization of Tharbad. whether to trade, sell, steal and so on, all are welcome.

If you're a corsair or orc, soldier or salesman and all else, Tharbad is for you. but beware of the thieves in the alleys, or the sounds in the darkness. Tharbad is a ruin for a reason, but none remembers….

Will u be able to find out?
Runs
| | | |
| --- | --- | --- |
| 24. - 27. October 2024 | | Middelaldercentret Nykøbing Falster |
Links
Send corrections for this page