The secrets we keep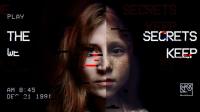 RPG system: LARP
Participants: 31 players
Organized by
Chaos League
Description
You all grew up in the same orphanage.
You were a band.
When one of you died, you were split apart.
A long time has gone by.
You all grew.
You all changed.
Maybe.

A band of orphaned children with a dark past meets again after many years. Buried secrets are unearthed as old wounds start bleeding once again. What have you become? Can you escape what you really are?

A grim, intimate psychological narration. An isolated place, where no one can hear you. These are the secrets we keep.


The secrets we keep is a high-budget live action roleplaying game. An exclusive experience for 31 players per run.
Focused on interpretation and on relationship, it was designed to be an intimate, powerful event, aiming directly for the hearts and minds of its players.
A deep larp about memory, regret, hidden truths, delving into what we were, what we are and what we do not want to be.

The secrets we keep is a game that employs narrative techniques specially designed to create a different, unique emotional experience.
Imagine having total control over your character, being able to use tools that let you narrate your inner world and delve into the full depth of your feelings, intents and memories.
We believe in the creative and expressive potential of people. Thus we designed this game with great care, chiseling it like artisans to deliver you an experience that will move you, making you authors of an original shared narration, something powerful and unique.
Runs
| | | |
| --- | --- | --- |
| 29. September - 1. October 2023 | | Convento dell'Incontro, Bagno a Ripoli, Florence, Italy |
Send corrections for this page