Together At Last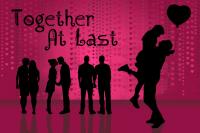 RPG system: LARP

By
Description
Together At Last is set in a near-future world where extreme social distancing has been the norm for more than four decades. However, a major research breakthrough has recently occured: a once-per-lifetime jab allowing you to safely meet other people in person for a limited period of time. The Department of Marriage has decided to use this technology to enhance the government-run romantic matching programme, for the first time enabling its participants to actually meet in the flesh their computer-assigned romantic partners.

During this programme you will receive this jab and enter a sterilised, domed facility together with a cohort of other bachelors and bachelorettes. There, a machine learning algorithm will set up a sequence of romantic relationships for you, of various durations and with a diverse selection of partners. This will give your cortical implant enough data about your personality and preferences -- sometimes things that even you don't know about yourself -- to enable the system to find your Forever Match, who will then become your permanent life companion. With a 99.5% success rate, the Together At Last programme is your best and only chance at true marital bliss.

Ever so slightly awkward romance with a dash of black comedy. We took inspiration from real life and made Hang the DJ even more dystopian by setting it against a backdrop of social isolation!

Together At Last is the in-person version of the online larp Together Forever and shares its setting, but you don't need to have played Together Forever to fully enjoy Together At Last.
Runs
| | | |
| --- | --- | --- |
| 10. - 13. February 2024 | | Nijmegen, Netherlands |
| 15. - 18. February 2024 | | Nijmegen, Netherlands |
Links
Send corrections for this page