Clamdash!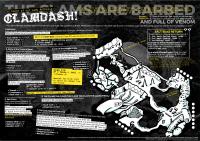 RPG system: Frontier Scum
Participants: 1 GM, 3-5 players
By
Download
Description
For a few hours each year, the seas beneath the glaciers of Dreckgullard's Desolation retreat, revealing salted dungeons in their wake. Within these waterlogged tunnels of ice - the CLAMS. The ones who find them get rewarded - those who find the most win the finest prize of all: an audience with the Allied Governess.
Played at
Send corrections for this page