Apocalypse Board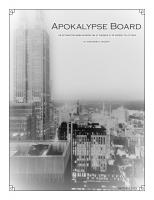 Genre: Komedie
Participants: 1 GM, 5-7 players
By
Download
Description
Corporate versions of the seven deadly sins attend a meeting about the end of the world in this dark comedy.

In a distant meeting room, high above the common mortals, sit the seven deadly sins, discussing who is to blame for the things that went wrong in 2019. The players take on the characters of the seven deadly sins and attend a meeting about how their plans are not going as they should, where they will bicker, blame each other and complain about how mortals keep being difficult.

Through dark humor, hostile meeting culture, and infighting, the players create a satirical tableau of the end of the world and the forces intent on making it happen. With a dysfunctional slide deck and poorly prepared board members, subjects like war, climate crisis, and the slowly decaying patriarchy are discussed.

Dark Comedy
Corporate
Meeting

Player types: This game is for the player who wants to play conflict, likes to improvise, and feels up to being bad at their character's "job". Beginner friendly and quickly read.

Gamemaster type: Running Apocalypse Board, your primary function is facilitating player safety and managing time. You will play a minor role during the game that has a similar function. It is an easy-read scenario, but it requires some technical setup and creating a meeting room environment.
Corporate versionerne af de syv dødssynder sidder til møde om verdens undergang i denne mørke komedie.

I et fjernt mødelokale højt hævet over almindelige dødelige sidder de syv dødssynder og diskuterer hvem de kan bebrejde for de ting der gik galt i 2019. Spillerne indtager rollerne som de syv dødssynder og deltager i et møde om hvordan deres planer ikke er gået som de skulle. De kommer til at bruge tiden på at skændes, bebrejde hinanden og brokke sig over at menneskene bliver ved med at være besværlige.

Gennem mørk humor, fjendtlig mødedeltagelse og indbyrdes kampe, skaber spillerne sammen et satirisk billede af verdens undergang og de kræfter der arbejder for at skabe den. Med en dysfunktionel præsentation og dårligt forberedte bestyrelsesmedlemmer, diskuteres emner som krig, klimakrise og patriarkatets langsomme opløsning.

Dark Comedy
Corporate
Meeting

Spillertype: Scenariet er til dig der gerne vil have noget konfliktspil, kan lide at improvisere og er frisk på at være dårlig til din karakters "job". Nybegyndervenligt og hurtigt læst.

Spilledertype: Som spilleder for Apocalypse Board er din primære funktion at passe på spillerne og holde styr på tiden. Du spiller en mindre rolle der har en lignende funktion i spillet. Det er et nemt læst scenarie, men kræver noget teknisk opsætning og skabelse af en mødelokale-stemning.
Played at
Send corrections for this page