Grand Slam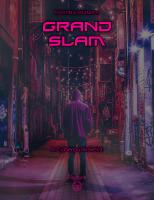 By
Download
Description
"What's Troy doing now?"

An illegal cyberdoc is housed in a repurposed food truck somewhere in the poor parts of town. A bodyguard hovers in the corner while you peruse the owner's wares. Business seems good.
Lately, other people have been hanging around too. Some body-puritan weirdo. A cybered-up ganger girl. A girl that talks and dresses like she's someone important.
"Just one big hit, then I'm out." One grand slam and you can leave the life of crime behind. These five, they surely have a grand slam cooking.
Links
Send corrections for this page