Crime pays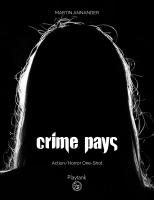 By
Download
Description
A fancy vernissage is held at an exclusive gallery. But it's all just a facade.
Between the hors d'oeuvres, the champagne, and the unintelligible fine arts jargon, a meeting is taking place.
Criminals arrive after having spent a year in hiding and they take their seats.
"This is the one we want you to kill," their boss says.
It's a young pop star.
Links
Send corrections for this page