Forum (2001)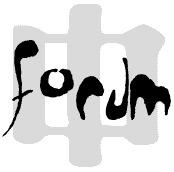 Location: Langelinieskolen, København, Denmark
Date: 27. - 29. April 2001
About the convention:
Visionen bag Forum er at lave et møde for levende rollespillere fra hele landet, for at skabe samarbejde, inspiration, socialt samvær, ideudveksling og venskaber.

Til Forum skal det være muligt at udveksle ideer, synspunkter, tanker, visioner, oplevelser og venskaber med folk man ikke har mødt før. Det skal være muligt at more sig og deltage i workshops, debatter, scenarier, foredrag og fester. Man skal kunne lære om live, lære fra sig om live, snakke om live, spille live, debattere om live, hygge sig og meget mere.

Entré: 100 kr.
We haven't had access to a program for this convention. The list is simply based on external references, memory, rumours and so on and the list might not be completed.
If you have a correction or are in access of a program then please send us an update.
Awards:
Bedste kvindelige rollespiller
Bedste mandlige rollespiller
Bedste debuterende arrangør
Bedste scenarie
Bedste scenarie over 200 deltagere
Bedste scenarie under 40 deltagere
Organizers
Referenced in the following articles
| | | | |
| --- | --- | --- | --- |
| Update fra LVE Sektor: De der nordjyder igen... | | 15 (Maj 2001) | Hareposten |
Send corrections for this page