Knutpunkt (1998)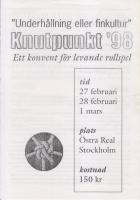 Location: Östra Real, Stockholm, Sweden
Date: 27. February - 1. March 1998
About the convention:
"Underhållning eller finkultur" - Ett konvent för levande rollspel

Lajv är en ny kulturform, om det råder inga tvivel. Det är också ett nytt medium, ett nytt sätt att berätta en historia. Lajv går att lägga till de andra formerna litteratur, film, teater och rollspel. Lajv är en ung kulturform. Idag höjs röster både för att lajv ska hållas på hobbynivå utan pretentioner och för att lajv måste få respekt och ställning som konstform bland de andra. Det är denna motsättning som är tema för Knutpunkt 98 i Stockholm. Temat kommer att synas och behandlas i ett antal av programpunkterna.
Download
We haven't had access to a program for this convention. The list is simply based on external references, memory, rumours and so on and the list might not be completed.
If you have a correction or are in access of a program then please send us an update.
Organizers
Referenced in the following articles
Links
Send corrections for this page