Viborg Game Jam - Winter 2023 (2023)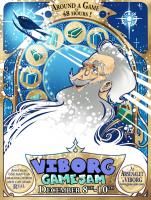 Location: Arsenalet, Viborg, Denmark 🗺️
Date: 8. - 10. December 2023
About the convention:
Get ready to spill all your built-up creative juices, as Viborg Game Jam returns!

Sign up @ Eventbrite
jam page @ itch.io
Viborg Game Developers and Arsenalet open their doors for 48(-ish) hours of intense game creation!

Join us and release your inner dev powers! Team up with exisiting friends, make new ones, or be a lone rider for the weekend!

Are you a beginner, hobbyist, professional, or simply curious of game development? – Doesn't matter!
Viborg Game Jam is an all-inclusive buffet of fun/crazy/scary/beautiful/(-insert your own-) ideas, and we can't wait to see what comes out on the other end!

Participation is 50kr.
Breakfast and snacks included.
Free for registered VGD members.
We haven't had access to a program for this convention. The list is simply based on external references, memory, rumours and so on and the list might not be completed.
If you have a correction or are in access of a program then please send us an update.
Organizers
Links
Send corrections for this page