GorrCon Vinter 2015 (2015)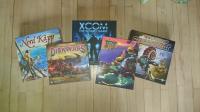 Location: AOF, Holbæk, Denmark 🗺️
Date: 20. - 22. February 2015
About the convention:
GorrCon er et weekend-brætspils-arrangement, med fokus på hygge og venskabelig konkurrence.
I omegnen af 150 brætspil står til fri afbenyttelse. Størstedelen kan vi takke vores over-kalif-Gutjak for - han stiller sin fulde private samling til rådighed. Derudover medbringer både andre arrangører og deltagere brætspil, og deler gerne.
Døren er åben, adgangen gratis og alle er velkomne til at komme og gå som de har lyst.
Både nybegyndere og garvede brætspillere kan deltage. Er der noget du er i tvivl om, så skriv til os - eller hiv fat i en af de røde t-shirts til GorrCon.
Vi har en kiosk med lidt snacks og drikkevarer, og der er mulighed for at købe mad på udvalgte tidspunkter.
*Vi tager ikke imod dankort, så husk kontanter!*
Der er mulighed for overnatning. Et undervisningslokale ryddes og stilles til rådighed til formålet. Medbring selv sovegrej. Der er som udgangspunkt ikke adgang til bad eller køkken.
We haven't had access to a program for this convention. The list is simply based on external references, memory, rumours and so on and the list might not be completed.
If you have a correction or are in access of a program then please send us an update.
Organizers
Links
Send corrections for this page