GorrCon Sommer 2014 (2014)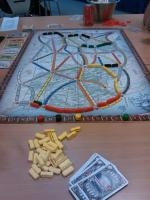 Location: AOF, Holbæk, Denmark 🗺️
Date: 5. - 7. September 2014
About the convention:
Tredie GorrCon i 2014!
*HUSK kontanter, vi tager ikke kort!*
Som sædvanlig foregår det i AOF's lokaler i Holbæk, og der er gratis adgang for alle!
Stikord: Hygge, brætspil, kortspil, figurspil, konkurrence, hygge, nørder, familie, unge, gamle, hygge - og så lidt mere hygge.
* Der er mulighed for overnatning, ved medbringning af eget sovegrej.
* GorrCon tilbyder fem måltider over weekenden mod betaling, enten for hvert måltid eller ved køb af madarmbånd.
* Der er en kiosk på stedet med forskellige snack og drikkevarer.
* GorrCon tager IKKE imod dankort. HUSK kontanter!
* Mere info og flere detaljer kan findes ved at klikke ind på siden "Gorr Con" der har oprettet eventen.
Vi glæder os til at se jer!
We haven't had access to a program for this convention. The list is simply based on external references, memory, rumours and so on and the list might not be completed.
If you have a correction or are in access of a program then please send us an update.
Organizers
Links
Send corrections for this page