MidgardCon III (2018)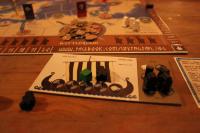 Location: Gildehallen, Borre, Norway 🗺️
Date: 5. - 6. May 2018
About the convention:
Velkommen til to dager med brettspill, rollespill, cosplay og Norgesmesterskap i Vikings! Midgard historsisk senter og Spillklubben 37 presenterer dyktige GM`er og spennende foredrag om historiske spill som du ikke vil gå glipp av.
Inngangsbillett kr 70,- og to dagers pass kr 100,-
Vi har egen bar med mat servering, snacks, kaffe og annet godt du kan kjøpe i Gildehallen for anledningen! 18 års aldersgrense på alkoholservering.
Alle er velkomne til å ta med egne brettspill og møte andre spillentusiaster i fantastiske Gildehallen. Det blir servert god mat i historiske omgivelser, en spillhelg utenom det vanlige!
Drager, magi, alver, trollmenn - og ikke minst vikinger - venter på deg når det tredje MidgardCon går av stabelen i Gildehallen!
Til alle tilreisende får 20 % rabatt på Thon Hotel Horten! Ring til resepsjon (tlf 33 08 33 80) og si du skal på arrangement til Midgard hisorisk senter og du vil få 20 % rabatt i prisen 🙂

We haven't had access to a program for this convention. The list is simply based on external references, memory, rumours and so on and the list might not be completed.
If you have a correction or are in access of a program then please send us an update.
Organizers
Links
Send corrections for this page