Københavns Spilfestival (2023)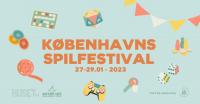 Location: HUSET CPH, København, Denmark
Date: 27. - 29. January 2023
About the convention:
Den 27.-29. januar 2023 byder Huset og brætspilcaféen Bastard Café velkommen til Københavns Spilfestival! En festival for alle aldre og alle spilniveauer, der forsøger at tage spillet ud af stuen og ind i det offentlige rum og skabe fællesskaber omkring spilglæden!

Københavns Spilfestival vil i år byde på alt fra brætspilsturneringer, kortspilsrum, visninger af spilrelaterede film, koncerter med bands, der finder inspiration i spilverdenen, rollespilsturneringer, videospilskonkurrencer, robotturneringer, escape rooms og oplæg med kendte mennesker fra spilverdenen. Og meget mere selvfølgelig!

Det endelige program vil blive offentliggjort løbende. Men sæt kryds i kalenderen allerede nu!
Det meste af festivalen bliver gratis.
Københavns Spilfestival er støtte af Indre By Lokaludvalg.
We haven't had access to a program for this convention. The list is simply based on external references, memory, rumours and so on and the list might not be completed.
If you have a correction or are in access of a program then please send us an update.
Organizers
Links
Send corrections for this page