Fantasydage på Frilandsmuseet 2021 (2021)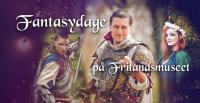 Location: Frilandsmuseet, Kongens Lyngby, Denmark
Date: 10. - 12. September 2021
About the convention:
Fantasydage er en hyldes til fantasygenren. Både som film, bøger og spil. Det er en hyldes til rollespil, middelalder og cosplay.
Her skal du ikke se og høre om eventyr. Du skal være en DEL af det. Oplev stemningen fra middelaldermarkedet med boder, underholdning, musik og mad lavet over åben ild.
Deltag i rollespil og kast dig ud i Det Store Slag og løs opgaver for kongen. Kom udklædt og vis dit flotteste kostume frem og deltage i konkurrencer.
På Fantasydage er der både spil, udklædning, konkurrencer og underholdning. Med stor kærlighed dyrker vi alt hvad der er eventyrligt og fantastisk.
Tag med! - og bliv en del af eventyret!
Læs mere på http://fantasydage.dk/
Her finder du også link til billetsalg.
Priser:
Barn: 50 kr. i forsalg. 70 kr. i døren.
Voksen: 100 kr. i forsalg / 120 kr. i døren.
Der er rabat hvis man køber weekendbillet.
We haven't had access to a program for this convention. The list is simply based on external references, memory, rumours and so on and the list might not be completed.
If you have a correction or are in access of a program then please send us an update.
Organizers
Links
Send corrections for this page