Lund 1922 (2022)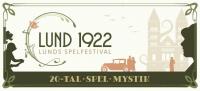 Location: AF-borgen, Lund, Sweden
Date: 26. - 27. August 2022
About the convention:
Följ med hundra år tillbaks i tiden med hjälp av upplevelser, spel och historien om Lund 1922 – men upptäck också ett annat Lund under ytan, med mysterier, hemliga kultister och uråldriga skrifter.

Lund 1922 är en festival som hyllar spel, skräck och historia, inspirerat av det verkliga 1920-talets Lund blandat med ett fiktivt Lund, inspirerat av författaren HP Lovecraft och rollspelet Call of Cthulhu. Eloso Förlag och Visit Lund samarbetar för att skapa en deltagarfestival som blandar spel, litteratur, historia och en gnutta skräck.
We haven't had access to a program for this convention. The list is simply based on external references, memory, rumours and so on and the list might not be completed.
If you have a correction or are in access of a program then please send us an update.
Send corrections for this page