Festival de l'imaginaire - LuxCon - Fantastikfestival (2019)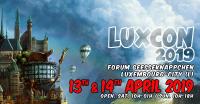 Location: Forum Geeseknäppchen, Luxembourg 🗺️
Date: 13. - 14. April 2019
About the convention:
LuxCon's sixth edition continues to offer the opportunity to celebrate Science Fiction, Fantasy & Horror in Culture.
La sixième edition du festival de l'imaginaire pour célébrer les cultures de la science-fiction, Fantasy et l'horreur
Die sechste Ausgabe des Fantastikfestivals um die Science Fiction, Fantasy und Horror Kultur zu feiern.
Opening hours:
Saturday 13/04 10-01
Sunday 14/04 10-18
Tickets
5€/day
9€/weekend
free for under-12s
FAQ: http://luxcon.lu/?page_id=9464
Volunteer Registration Form: http://luxcon.lu/?page_id=11328
Website: www.luxcon.lu
Organised by Science Fiction & Fantasy Society Luxembourg
We haven't had access to a program for this convention. The list is simply based on external references, memory, rumours and so on and the list might not be completed.
If you have a correction or are in access of a program then please send us an update.
Organizers
Send corrections for this page