Prolog (2022)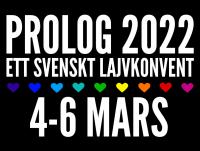 Location: Online, Sweden
Date: March 5, 2022
About the convention:
Prolog är ett svenskt lajvkonvent med fokus på att främja och utveckla lajv i Sverige.

Prolog 2022 körs digitalt den 5e mars.
We haven't had access to a program for this convention. The list is simply based on external references, memory, rumours and so on and the list might not be completed.
If you have a correction or are in access of a program then please send us an update.
Trivia
Konventet var planerat att arrangeras 4-6 mars, men valde pga det osäkra läget kring covid19-pandemin att hålla det online.
Send corrections for this page