FE Con - We Have to Talk About the Ducks (2020)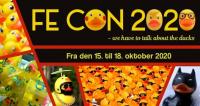 Location: Skolevej 12, Bur, Denmark
Date: 15. - 18. October 2020
About the convention:
Grundet corona bliver FE con 2020 et lidt anderledes con. Det er derfor vigtigt, at du læser hele denne info tekst før du tilmelder dig.

Vi har haft problemer med at finde lokaler, igen grundet corona, og con'et vil derfor blive holdt i Bur hos Tina og Anders.

Derfor er der begrænset plads og dermed også begrænsede billetter. Grænsen er sat ved 40 personer og tilmeldingen er bindende og skal betales inden tilmeldingsfristen udløber.

Pris: 100 kr. inkl. morgenmad samt kaffe og te ad libitum.
We haven't had access to a program for this convention. The list is simply based on external references, memory, rumours and so on and the list might not be completed.
If you have a correction or are in access of a program then please send us an update.
Organizers
Links
Send corrections for this page